"Dinosaur Hunter" Pictures

These pictures were taken by Kathy Gannon, who was an extra on the film in Saskatchewan, Canada.
Christopher Plummer starred with Simon in this film.
(The Dinosaur Hunter was a finalist at the Hollywood Film Festival Aug. 5, 2000.)
"The Dinosaur Hunter"
Based on the award-winning novel My Daniel, by Pam Conrad, this is the story of 13-year-old Julia Creath and her older brother Daniel living on their farm during the days when fossil fever hit everyone, old and young. A time when paleontologists vied for discoveries and people would even kill for those old bones in the ground. People like Hump Hinton, the one-legged prospector who rode into their lives on a camel, and Dr. Jack McCabe, paleontologist and dinosaur hunter, who came from far away for the quest. This is a story of intrigue and danger, of adventure and treachery, a battle between good people and evil and avarice that these children have not known before.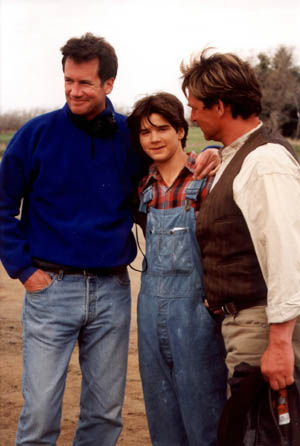 Simon with Kathy Gannon
Simon with director, Rick Stevenson, & Bill Switzer

Simon on the horse he rode in the film

Simon with extras

Christopher Plummer with other actresses & camel

Christopher & actress walking on the town road

Cast & crew of The Dinosaur Hunter
This page © 2000 by Lonna Poland